Why didn't I earn points on my purchase?
There could be a few reasons you're not seeing points in your account from your purchase:
Double-check you were signed into your account and didn't accidentally check out as a guest. You must be logged in when making purchases to earn points. If you have done this in error, contact us at support@oneillclothing.com to help apply your points to your account.
Points will not be added to your account until your order ships. While the order is processing (prior to shipping) you will not see your new points.
You also won't receive points if you return your purchase or your purchase is canceled for any reason. Please note that any points you earn on a purchase you later return will be deducted from your point balance.
I'm having trouble redeeming points on an order?
In order to redeem points you'll need to start the checkout process through our normal checkout, not an accelerated checkout (Paypal, Shop Pay, Apple Pay). When logged in to your account, you'll see a 'Choose Reward' dropdown next to the coupon code box in the checkout. Apply the relevant value of point redemption and then you can continue checking out or navigate to an accelerated checkout (like Paypal, Shop Pay, Apple Pay).
I've referred several friends but haven't received any points for it. Is there something else I need to do?
Thank you so much for sharing us with your friends! We really appreciate it.
Referred friends must be a first time customer in order for both of you to receive the referral rewards. In addition, the referral must be initiated through our rewards referral box on your personal rewards page or through the use of your unique referral link also found there.
Points will be added to your account as soon as your friend completes their first eligible purchase on our website.
When this happens you will receive an email letting you know that one of your referrals made a purchase using your code and that a reward was added to your account. You can also check your 'Rewards History' to see a list of any points that you have received for referrals.
Can I redeem points and use another coupon code on the same order?
Unfortunately, no. Only one discount is allowed per order and they cannot be combined. Although if you are rewards member you can use both your Free Shipping perk with a points redemption coupon on the same order.
I already follow either/both @oneillusa and @oneillwomens instagram accounts. How can I earn points for following them?
If you already follow our instagram accounts, you'll just need to login to your O'Neill Rewards account and on the rewards page, click the 'Follow us' button over the instagram tile. It'll navigate you to your instagram account where it'll confirm that you're already following and award you the points.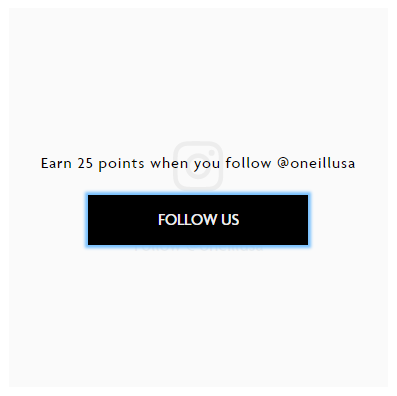 I input my birthday and I didn't receive my 100 points birthday reward?
Please note, if your birthday is within the next 30 days from the date of entering it, your reward will be granted in delay, up to 30 days.
ie - Your birthday is June 15th and you enter it into your Rewards account on June 1st. You'll be awarded the birthday reward points on July 1st.